By the Water (Aboriginal: Cabarita) for voice and nature sound installation.
Performed & recorded by vocal ensemble, Halcyon: Alison Morgan, Jenny Duck-Chong & with guest Belinda Montgomery.
Commission from the City of Canada Bay Council. Hosted by Mayor Angelo Tsirekas
Watch & listen:
http://www.reclamation.net.au/
Artistic director
Olev Muska
Commission & Project first created & envisioned by:
Dr Penny Stannard (Artistic Director)
Martha Jabour (Arts Project Officer)
Recording sound engineer
Bob Scott
Nature sound recordings:
Greg Simmons
Composer's Note
By the Water is a sound installation for voice and pre-recorded nature sounds. Commissioned by the City of Canada Bay Council, this piece was composed for the leading Australian vocal ensemble, Halcyon, and premiered by them at the Cabarita Park Twilight Festival on 27th October, 2012.
By the water (Aboriginal: Cabarita) was composed to reflect the natural environmental setting of Cabarita Park and climate change issues. A poem by Henry Kendall (1839-1882), Bell Birds, was chosen to represent the three main themes of the work: nature, water and heat. A variety of nature sounds were pre-recorded at the site of Cabarita Park and mixed together to create a 'collage-like' effect. As the score indicates, a variety of bird, water, sea wave, river, ferry and vocal effects enter at different points throughout the piece. Each sampled sound was given a number, mapped to different notes on the keyboard and triggered live during the performance.
The duration of By the Water is 13:30 minutes.
Performance Instruction

Hum introduction
Vocalists begin the Hum section outside the venue/hall and gradually walk through the performance space, making their way to the stage.
Main section – Henry Kendall Text begins
Once singers are on stage, the main section of By the Water is performed.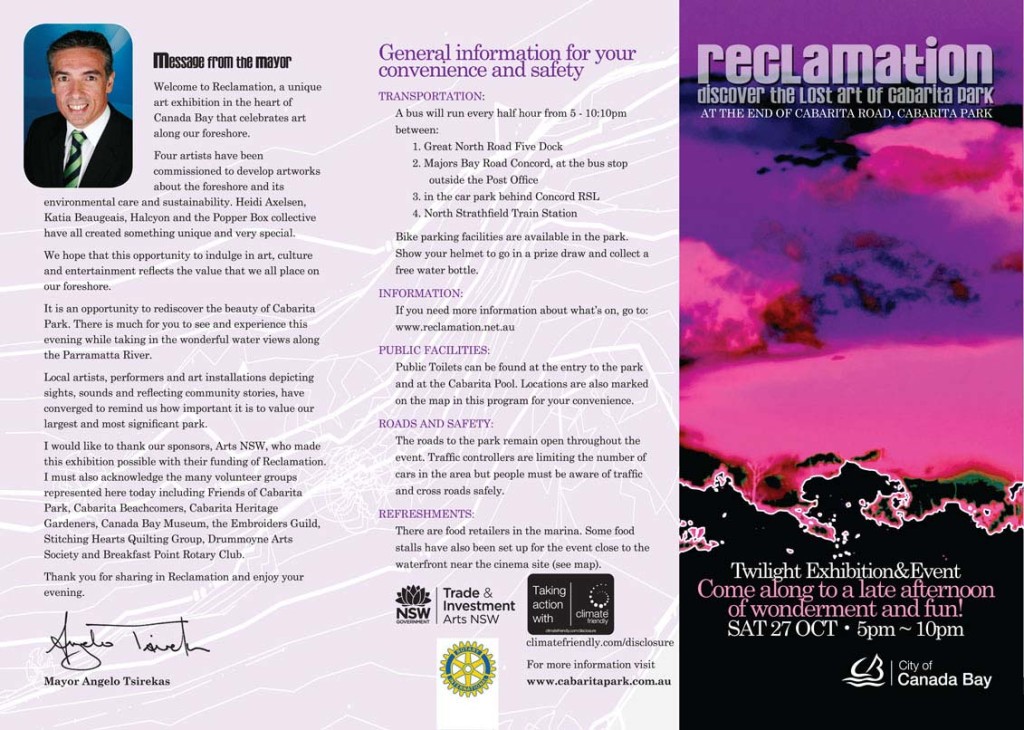 CLICK ON PHOTOS TO ENLARGE