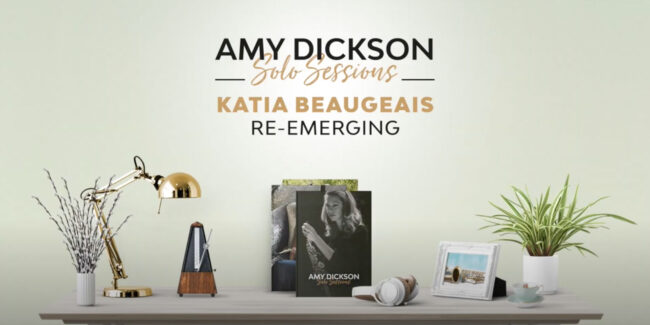 Beaugeais's Re-emerging for solo soprano saxophone

Composed by Beaugeais during Sydney's lockdown, recorded by Dickson in London

Tues 26 July 2022
UK Hereford – Three Choirs Festival
As the world re-opens again, Amy Dickson will give her first live performance of Re-emerging.
Info: https://3choirs.org/events/amy-dickson-solo-sessions

WATCH Amy's YouTube channel
– My interview with Amy about the composing process = 9 min.
– Amy Dickson's premiere recording of Re-emerging @ 9:34-16:12
https://www.youtube.com/watch?v=dP19Xi2k1sA

SHEET MUSIC @ Australian Music Centre

Available as digital download, printed bound score or sample:
https://www.australianmusiccentre.com.au/work/beaugeais-katia-re-emerging

UK Clarinet & Saxophone Magazine of Great Britain:
https://mailchi.mp/995dc2731772/june-e-newsletter

Concert Program Note 
Beaugeais's Re-emerging for solo soprano saxophone (2020) was commissioned by Amy Dickson for her "Solo Sessions" online saxophone recording project. With the world in lockdown due to the Coronavirus pandemic, I wanted to write a soothing, meditative piece that would have a calming effect for people experiencing a difficult time during isolation.
This piece symbolises how we will re-emerge, recreate, re-collaborate and reunite to make live music again.
A sense of 're-emerging' is felt throughout the work, as the soprano saxophone sound slowly emerges, gradually building up to lyrical, song-like and uplifting melodic passages.
My compositional aim was to explore saxophone contemporary playing techniques in an atmospheric style. Opening with a soft soothing multiphonic, long meditative vibrato pitch nuances slowly appear alongside wind sound effects to create a calming ambiance.
The purity of the soprano saxophone's expressive and dulcet tones in the middle and high register are featured to produce positive and reassuring melodic moments.
As I was composing this piece for Amy, from my home in Sydney, I was greeted by a chorus of singing birds outside my window. This became embedded in my composing headspace and made its way into the piece as bird-like timbre trill motifs, showcasing the unique range of colouristic effects that the soprano saxophone can produce.
All fingerings and playing instructions for the multiphonics, quarter-tone timbre trills and wind sound effects are displayed in the score.
No previous playing experience with extended techniques is required.
Duration: 7 min.
© May 2020 by Katia Beaugeais

SAMPLE SCORE