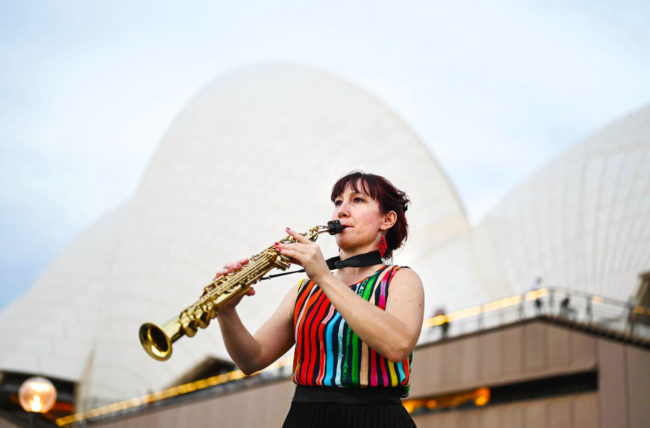 Photo by Bridget Elliot: Katia Beaugeais – Sydney Opera House
2019 ABC Classic Podcast of New Australian Sax Music
Katia Beaugeais is featured soloist-composer performing 5 new Australian saxophone works written specially for her. She also performs her latest soprano sax piece, Breath by Breath, which she premiered at the 2018 World Sax Congress in Croatia.
Beaugeais's Breath by Breath piece has been chosen for ABC Classic's 2020 New Waves theme tune.
Listen to how Beaugeais circular breathes for seven minutes non-stop to produce long, meditative, endlessly flowing string-like arpeggiated patterns without taking a proper breath and breaking the sound.

Interviews provide a behind-the-scenes look into how each piece was composed. Beaugeais explains her aim and passion in helping composers create new and diverse Australian repertoire for saxophone.
LISTEN/Download Beaugeais's ABC Sax podcast:
https://www.abc.net.au/classic/new-waves/katia-beaugeais-new-australian-sax-music/10930530

ABC Sydney – Eugene Goossens Hall
ABC Classic New Waves program

Composers
Katia Beaugeais, Katy Abbott, Anne Boyd, Bruce Crossman, Rosalind Page.

Performers
Katia Beaugeais (soprano & alto saxophones)
Pianist Phillip Shovk of the Sydney Conservatorium joins Beaugeais in the saxophone/piano works.
Executive producer Stephen Adams
Music producer André Shrimski
Sound engineers Jason Blackwell & Andrew Edgson

Photo Gallery
https://www.newmusicblock.com/gallery/abc-sax-recording-new-australian-music/

Concert program note
Katia Beaugeais – Breath by Breath (2018) for solo soprano saxophone
Beaugeais's Breath by Breath for soprano saxophone was composed for a premiere performance at the 2018 International World Sax Congress in Zagreb, Croatia, and selected for broadcast on the Adolphe Sax (Belgium) online TV channel. This was Beaugeais's first time where she composed and performed one of her own pieces without any notation or writing any ideas down. Beaugeais composed Breath by Breath through her saxophone alone, memorising her favourite compositional passages to form the piece. She has not yet notated the music. Breath by Breath has been chosen for ABC Classic's 2020 new theme tune: opening/closing each New Waves radio and podcast program throughout the year.
Breath by Breath explores the pure, lyrical and singing tonal colours of the soprano saxophone through the use of atmospheric contemporary playing techniques: bird-like quarter-tone trills, multiphonics (playing 2 or more notes at once), circular breathing, slap-tongue (percussive drum-like sound) and air vibrato wind sound effects. Endlessy flowing arpeggiated passages featuring circular breathing for seven minutes non-stop and thick textural sound mass passages featuring soothing multiphonic layers in a meditative style create an innovative and unique work. Beaugeais's fascination of pushing the saxophone to its limit is showcased with her unconventional method of circular breathing to avoid a break in the sound, imitating the continuous string arpeggio sound of a violin.

More Info
Limelight Magazine – Australia's Classical Magazine
Guest Column article – Beaugeais's dual role as soloist-composer in her ABC Classic Sax podcast:
https://www.limelightmagazine.com.au/features/katia-beaugeais-new-australian-sax-music/