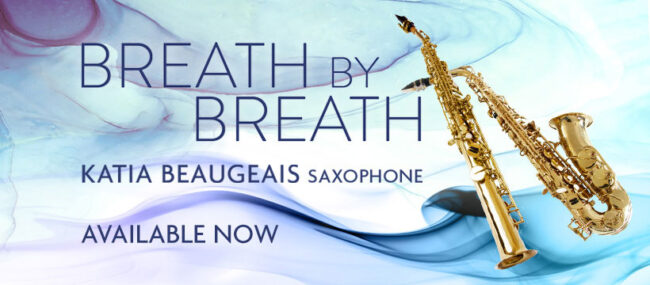 New ABC Classic Album: "Breath by Breath"
Features Beaugeais's dual role as composer-saxophonist with Australian composers: Katy Abbott, Anne Boyd, Rosalind Page, Bruce Crossman and Beaugeais herself with her circular breathing soprano sax piece, "Breath by Breath".
Available at ABC Shop
Buy or stream online:
https://www.abc.net.au/classic/shop/katia-beaugeais-breath-by-breath/13450520

About the Album
Composition and performance have played an equal role in forming my raison d'être, and saxophone contemporary playing techniques have become an integral part of my composition style. Saxophone extended techniques transport the performer and audience to another place. When I circular breathe I forget where I am, as I am completely immersed within the sounds of my saxophone. My aim as a composer-performer is to help other composers explore unique saxophone playing effects in their music to create new sound worlds.
For the past few years, it has been an absolute joy to work with each composer and help them bring their notes to life, as they embraced contemporary saxophone effects in their own individual compositional style. My brief to each composer was to not hold back and compose new sounds that would push my saxophone and me to its limit, resulting in this ABC Classic album release showcasing new contemporary saxophone repertoire.
By Katia Beaugeais.
CLICK HERE For more info + Album Program Notes
Program notes are in Adobe Acrobat format (PDF file) – will open in a new window or appear in Downloads.
CLICK HERE to Watch Album Films
Beaugeais performs select passages that showcase each composers' unique stylistic approach in writing for the saxophone.
Filmed at ABC Studios, Sydney.