https://www.facebook.com/ANBOCSydney2016/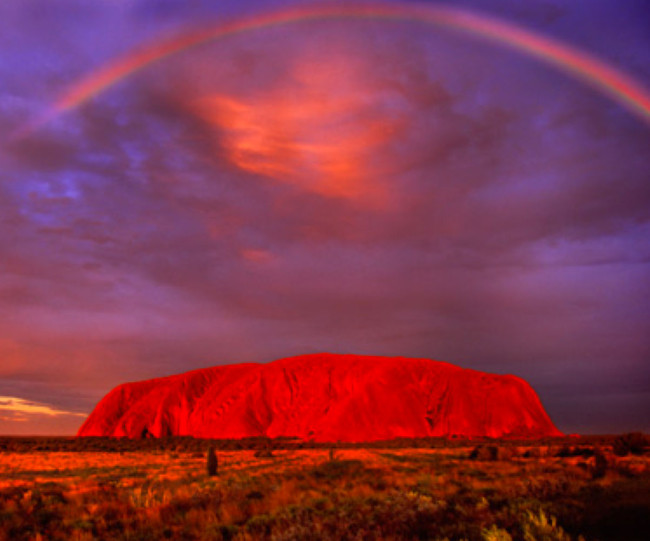 First Light at Uluru – World Premiere version for Wind Symphony
Commissioned by Assoc. Prof. John Lynch, Sydney Conservatorium of Music & Matt Klohs.
This wind symphony premiere features a special theatrical element during performance – this is optional in the score.
WATCH Live Performance
Version without Didgeridoo – Tuba plays didgeridoo-like sounds:
https://www.youtube.com/watch?v=sI92ZUF_y0U

WATCH Interview – Katia Beaugeais & John Lynch
About the creative collaborative process, how the Aboriginal significance is reflected in the music and score notation advice for composers:
https://www.youtube.com/watch?v=jWlyTqKa7HU


Wind Symphony Score (version without didgeridoo)
Score + Parts published by the Australian Music Centre:
http://www.australianmusiccentre.com.au/workversion/beaugeais-katia-first-light-at-uluru/31493

Concert Program Note

First Light at Uluru for wind symphony was commissioned by Dr John Lynch and the Sydney Conservatorium of Music for premiere performance at the 2016 ANBOC Festival.
It has since been performed around the globe and recorded by world-renowned didgeridoo player, William Barton, and the Royal Australian Navy Band for their 2018 CD: Spirit of Place.
Originally composed for the Queensland Conservatorium Saxophone Orchestra for performances at the 2015 International World Saxophone Congress in Strasbourg featuring thirty saxophonists, Selmer Saxophone Showrooms in Paris, in joint concert with the Royal Northern College of Music Saxophone Orchestra in England, as well as Australian performances in Queensland, Sydney and Melbourne, Beaugeais's First Light at Uluru has been recreated into a new work of its own, showcasing the wind symphony in a unique and innovative way.
Both versions continue to be performed around the world including Royal College of Music Saxophone Orchestra in London, NASA Sax Congress in North America, Adelaide Wind Orchestra, US premiere by the Texas Woman's Wind Symphony, and the 2020 Japan premiere by Conductor Colonel Takahiro Higuchi and Japan Ground Self Defense Force Central Band at the Tokyo Metropolitan Theatre Concert Hall.
The aim of this new version for wind symphony is to convey the Aboriginal significance and sacred earth of Uluru. Uluru means 'Earth Mother', and is sacred to the Anangu, the Aboriginal people of the area. The 8.6 square kilometre rock is believed to hold a powerful energy source and marks the place where Dreamtime began. Didgeridoo sounds and unique atmospheric sound effects symbolise the cultural significance and spiritual atmosphere of this powerful landmark. Soothing 'air vibrato' wind sounds that I love to compose and perform on the saxophone depict the wind gusts characteristic of Uluru, have been recomposed for each instrument (ranging from the piccolo to the tuba), requiring certain players to invert their mouthpiece upside down and blow air into the opposite end.
This piece is also inspired by the spectacular sunrise over Uluru. Also known as Ayers Rock, this giant red rock is located in the middle of Australia's red desert. At dawn it changes colour and produces an illuminating red and orange glow. A fusion of trance-like multiphonic timbre trill colouristic effects develop into a loud collage-like textural sound mass to portray the red rock's illuminating changes of colour at dawn, exploring the unique sound world of the wind symphony.
The compositional aim of First Light at Uluru is to showcase how unconventional playing techniques can also create unique, calm, expressive and atmospheric passages, rather than in a modernistic style commonly associated with avant-garde repertoire.
© 2020 – Concert program note by Katia Beaugeais.
READ Limelight Magazine's feature article about the Premiere:
http://www.limelightmagazine.com.au/features/katia-beaugeais
CutCommon Magazine:
http://www.cutcommonmag.com/katia-beaugeais-first-light-at-uluru/

Click images to enlarge
Sample Passages
© 2016


Saxophone Orchestra version:
https://www.newmusicblock.com/saxophone-orchestra-premiere/