AYO perform Katia Beaugeais' "Like Snowdrops You Will Shine"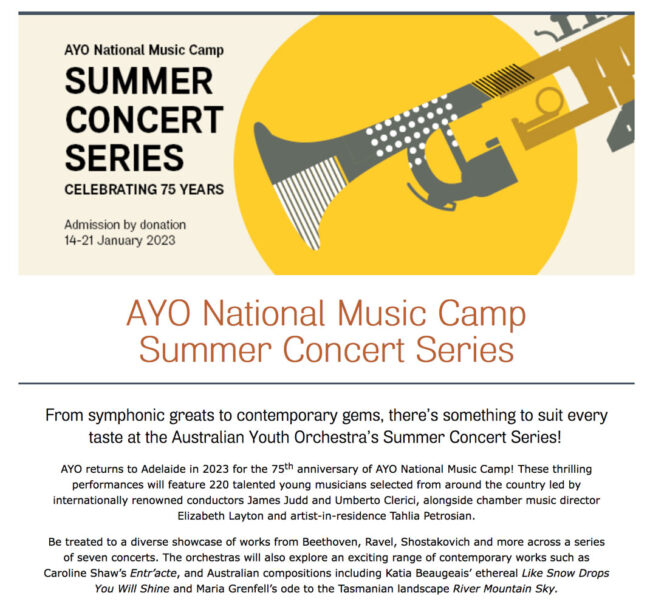 Saturday 21 January 2023, 7pm  (Adelaide time)
"AYO National Music Camp Orchestras will present their final concert in celebration of 21st Century orchestral music"
Click here for AYO Concert link
Venue: Elder Hall, University of Adelaide

Directors: Elizabeth Layton, James Judd and Umberto Clerici.

ABOUT
Like Snowdrops You Will Shine refers to the delicate white snowdrop flower that symbolises hope, optimism, courage, resilience and new beginnings. It features Australian nature sounds to create a soothing, peaceful and uplifting sound world. Through my music I hope to provide comfort for anyone who is facing a challenging time in their lives.
Like Snowdrops You Will Shine is currently the main theme tune for ABC's Classic Breakfast daily program with Russell Torrance.
Recent performances include the Kansas City Chamber Orchestra and the City of Birmingham Symphony Orchestra.

MORE INFO including Full Concert program note:
https://www.newmusicblock.com/aco-collective-katia-beaugeais-like-snowdrops-you-will-shine/

WATCH FREE Live Broadcast Australian Digital Concert Hall 730pm AEDT
(7pm Adelaide time):
https://australiandigitalconcerthall.com/#/item/101905