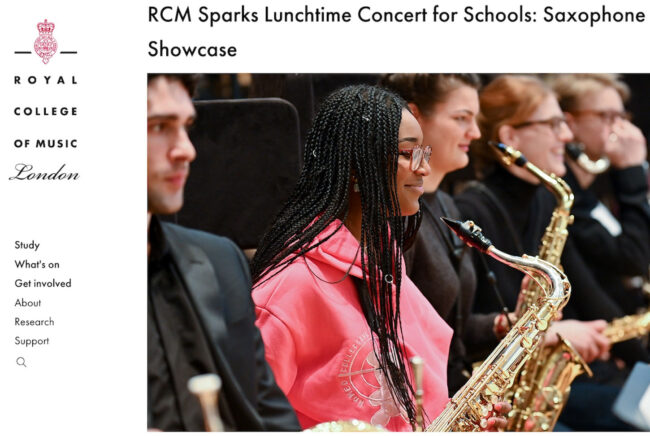 Katia Beaugeais' "Together We Unite Through Music"

2nd Performance at Royal College of Music by RCM Saxophone Orchestra
4 July 1pm, 2023 – RCM Education Schools Concert

This concert follows the International Premiere performance by Prof. Kyle Horch and the Royal College of Music Sax Orchestra at RCM's Annual Sax Gala Concert
3 July 2023:
https://www.newmusicblock.com/event/royal-college-of-music-saxophone-orchestra-perform-katia-beaugeais-together-we-unite-through-music/

Director: Saxophone Professor Kyle Horch.
Venue: Royal College of Music (both concerts)
Amaryllis Fleming Concert Hall
Prince Consort Road,
London, UK.

ABOUT Together We Unite Through Music (2022) for Saxophone orchestra
Katia Beaugeais' Together We Unite Through Music for saxophone orchestra was commissioned by Joseph Lallo and the Melbourne Conservatorium of Music for a world premiere performance at the 2022 Melbourne Saxophone Festival of Australia. London's Royal College of Music Saxophone Orchestra conducted by Professor Kyle Horch will perform the international premiere in July 2023.
This piece celebrates the re-opening of concert halls and live music across the world as together we unite through music. It takes us on a journey: from the start of lockdown to the celebratory moment as we are able to perform on stage together again.

More info here:
Full Concert Program Note, Sample Score pages etc:
https://www.newmusicblock.com/gallery/katia-beaugeais-together-we-unite-through-music-for-saxophone-orchestra/