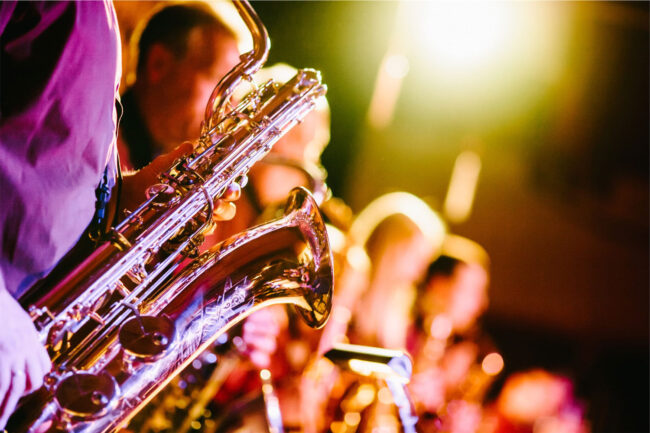 World Premiere of Beaugeais' "Together We Unite Through Music" for massed Saxophone Orchestra

2022 Melbourne Saxophone Festival
Saturday 17 September – All day event
http://www.melbournesaxophone.com/2022-saxophone-mega-day

Founder/Director: Saxophonist Joseph Lallo
Featured Guest Artist:  Composer & Saxophonist Katia Beaugeais
Venue: Melbourne Conservatorium of Music

Gala Final Concert – 5pm

http://www.melbournesaxophone.com/saxophone-mega-day-saxophone-showcase-concert
Beaugeais' Breath by Breath for soprano sax
Katia will perform her circular breathing solo sax piece – Breath by Breath – from her ABC Classic Sax album.

Buy/stream online @ ABC Shop:
https://www.abc.net.au/classic/shop/katia-beaugeais-breath-by-breath/13450520


Together We Unite Through Music for saxophone orchestra
Closing the festival is the world premiere of Beaugeais' Together We Unite Through Music for massed saxophone orchestra, conducted by Joseph Lallo.

ABOUT Together We Unite Through Music
Program note free to use for publicity etc. with "Courtesy of Katia Beaugeais".


Concert Program Note 

Katia Beaugeais' Together We Unite Through Music for saxophone orchestra was commissioned by Joseph Lallo and the Melbourne Conservatorium of Music for a world premiere performance at the 2022 Melbourne Saxophone Festival of Australia.
This piece celebrates the re-opening of concert halls and live music across the world as together we unite through music. It takes us on a journey: from the start of lockdown to the celebratory moment as we are able to perform on stage together again.
During lockdown, we experienced a range of different sounds and emotions as many of us were confined to our homes. In demonstrating the wide range of special effects that the whole saxophone orchestra can produce, contemporary playing techniques are featured. Opening with soft raindrop sounds (key clicks, sax tapping and slap-tongue effects), saxophonists begin to whistle in a bird-like manner, imitating a chorus of birds from an outside garden tree.
The soprano sax emerges with the first melody of the piece in a singing bird-like manner.
Air wind sound waves lead into an uplifting, dream-like and dance-like rhythmic section.
With players entering one by one, gradually building up to the whole ensemble, the unique and illuminating colours of the full saxophone range are showcased.
Together We Unite Through Music builds to a powerful, exhilarating, celebratory and unifying finish as all saxophonists come together and unite through music again.
Info: www.newmusicblock.com
© August 2022 – Program Note by Katia Beaugeais

Sax Instrumentation: Sopranos, Altos, Tenors, Baritones, Bass (with optional Bari sax replacement part).
This piece has been composed for a 12/13 part saxophone ensemble or for a massed saxophone orchestra.
Duration: c. 9 minutes.

View Score Pages + Concert photos here:
https://www.newmusicblock.com/gallery/katia-beaugeais-together-we-unite-through-music-for-saxophone-orchestra/